How To Search And Note For New Members In The Forums
HOW TO SEARCH and NOTE FOR NEW MEMBERS IN THE FORUMS:
The magic "Search Forums" button to your left is the PREFERRED and FASTEST method of help for your answers and solutions to your questions and problems   .....

The chances are 99% if you've got a problem or question then someone had it before you   ..... 
and it usually has an answer  ....

(SEE IMAGE BELOW)
Also note when you search you MUST tick the Messages radio button under Where to Search: for the most results ....  if you don't you will only get what's in the Topic Title lines (usually not much)

Also, something I just discovered that 'should' have more robust search results is
google search within boonex .....  top right corner of every page  .....  just now noticed after all this time LOL  ..... 

By NOT searching and researching your question/problem/concern you are setting yourself up for frustration as it really shows a lack of respect for other people's time and while no one minds helping others out, everyone does not like answering the same questions over and over again  ....

If your searching and due diligence bore no satisfactory results, the preferred method of help is to post a concise, descriptive Topic Subject post and only one or two "RELATED" questions at the most in the body along with the version number.

With that said, YES, Boonex needs to enable STICKY posts for the forums to have the FAQS and others (such as this) at the top of forums as they SHOULD be!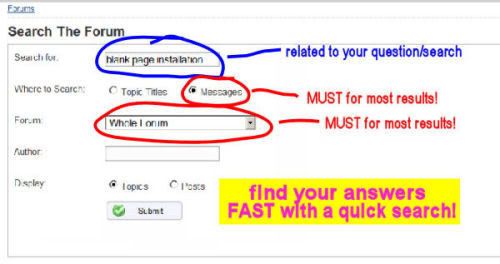 Don't forget to try the google search witih boonex .....  top right of every page  ..... 
.