Android App Released! [UPDATEDx2]
It took a good while and many have been patiently waiting, for which we are very grateful... Today, we release a new application for Android-powered mobile phones. Just as the iPhone app this one is called "OO" and it provides basic functionality for Dolphin-based site members.
OO for Android is an important milestone as we plan to be focusing on Mobile/Touch-friendly interfaces and solutions more in the future.
A few important points:
- Android app source code and re-bradning rights are only available as part of Prime package.
- Current holders of of Prime will be getting the Android app for free.
- Contact us to upgrade to Prime with a discount if you already have some BoonEx Licenses.
- The app has a new interface, which is currently also being ported to the iPhone App.
Use this link to download, try and preview the app.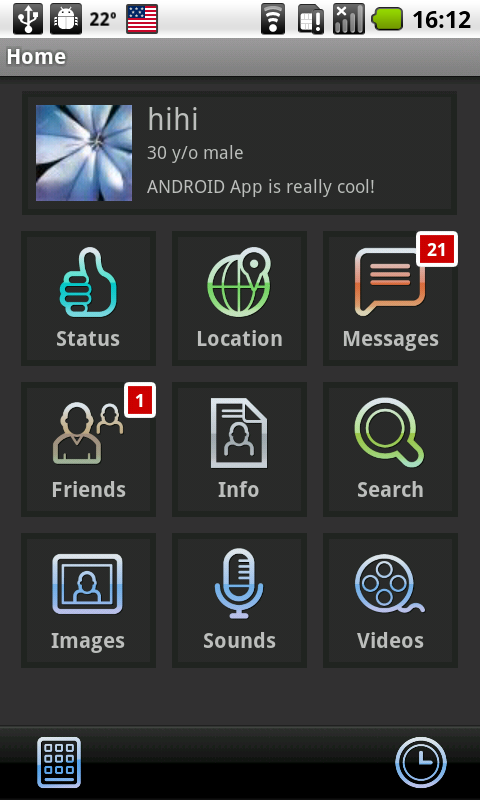 UPDATE:
We've just released a small update addressing the issues voiced in the comments:
1. Automatic URL redirection added, so it doesn't have to have "www" in the site address.
2. Changed the icon set to a more generic one (customized for the app specifically), and yet it looks a little better on different phones.
3. Fixed the crash when location page of a profile without defined location was accessed.
4. Removed "add photo" button from the album pages of other members (not own).
5. Renamed Mail to Messages for better consistency of terms and association with the icon.
- the screenshot above is updated.
UPDATE 2
- app restoration from sleep/stop/etc.
- app crash on location (additional fix)
- app crash on profile view when profile view is denied
- app crash when site URL is wrong
Also, if you're ready to offer the Android app download for your site visitors - read how to do it here:
http://www.boonex.com/unity/forums/topic/HOWTO-enable-Android-link-in-Download-box-on-Dolphin-homepage-.htm