BoonEx Jobs at oDesk
We're pleased to announce that we have partnered with oDesk and they would now provide a platform for BoonEx Jobs. Together we are identifying quality contractors and approve the best ones only. With this move we plan to solve a number of issues that we face with our own Jobs system and most importantly - oDesk BoonEx Group offers a number of advantages for both contractors and their potential clients:
work progress tracking
detailed history, portfolio and feedback
advanced rating system
over 1 million contractors
secure payment processing
dispute resolution system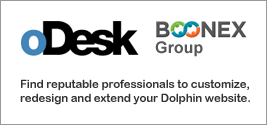 We will continue supporting our local Jobs system during a trial period to see how this new partnership goes, but we feel very optimistic about potential benefits for BoonEx Dolphin users. Some quality contractors already joined the group and are take to take up on new orders. Dolphin custom modifications, design, SEO, promotion, administration and other service providers are there for you to hire.