Where have you been? Where are you going to? I wanna know what's new? I wanna go with you...
Black Friday, Christmas, Boxing Day, NYE and various other "abnormal" days passed and we're safely in 2014. Whew! This time we decided to let you enjoy your families and holiday shopping with a bit more focus on "offline life". Now, that you're back, let's get our share of shopping spree going (sale! sale!); reflect on the year 2013 and glimpse into the fresh new 2014.
Hello, 2014 - Sale!
Bearing the weight of passed Black Friday and Cyber Monday together we just have to look into the best short-term discount we can possibly offer, right? It will be...
between now and the 16th of January!
This discount would be applied automatically for both new and repeat orders, so it's a perfect moment to grab a second, third, tenth license. Think about it - right now you could save $240 by buying Prime!
Where have you been? The year 2013.
We have entered 2013 with a long-awaited Dolphin 7.1 Osho release. It was a great evolutionary leap with fresh design, overall quality improvement and overhaul of major use-cases. Osho is and will continue to remain a product we are proud of. Over the year it progressed to 7.1.4, with accompanying improvements of Mobile Apps. 
And yet, many Vendors and observant clients must have noticed that 2013 was relatively "slow". The social networking software industry in general has been stagnating for a while, desperate for a new wave of interest. One may argue that it's the Facebook-fatigue effect, rippling in a form of diminishing attractiveness of "my own social network" idea. Or, perhaps, the ever proliferating "cloud services" turn off our inner geeks. The question is open, but we do have our own strong take and vision on what to do next, regardless of the what is the right answer.
Before moving on to the next chapter, we should mention some of the most recent improvements that we've done, and haven't publicised yet...
Most recently, in 2013. Attention, Trusted Vendors!
In preparation to the upcoming Dolphin updates and simultaneous growth of BoonEx Market, we are focusing on further refinement of Market functionality:
- In products browsing, you can now choose "version compatibility" and narrow down the search looking only at the products that are compatible with your current version of Dolphin. 
- List of "Trusted Vendors" has been updated. The list depends on our impression of Vendor's reliability - response rates, feedback, reports, disputes, etc. It would also normally take at least a year of dedicated work to attain this status. 
- Trusted Vendors now have special fields in their profiles, which they must fill ASAP: * Skills * Timezone * Working hours * Availability * Spoken languages * Country location. This information should help clients to further understand services of Trusted Vendors and establish more efficient client-vendor connection. 
There's a big reason behind all the effort of making BoonEx Market better. Further development of Dolphin and BoonEx in general will rely heavily on BoonEx community. And so, we'retalking about 2014...
Where are you going to? I wanna know what's new? I wanna go with you... 2014.
Looking at what's happening in the landscape of social networking, it is easy to notice how "do it all/all regions/all people" mega-sites are slowly losing their appeal. Teens seem to favour anonymity (Tumblr); geeks love raw content (Reddit); general populace pushes healthy growth of "single-purpose" tools (Instagram, Pinterest, Quora); segment leaders are strong (LinkedIn) and local networks are doing great (Weibo, RenRen, Vkontakte). All in all we may all now breathe out and accept that "Facebook-world" is not going to happen. Great news for aspiring Dolphin-sites operators! Clearly, niche sites with good content have and will continue to have their shot for success. And, while your average Joe may be shaking head in disbelief (thinking that there're too many social sites out there already), the smart ones would be building future leading niche communities. 
In 2014 we're going to cater for those smart ones. Dolphin 7.1.5 is coming soon. There will be even more advancement in "mobile" and "touch". And (this time for real) we're seriously close to the first public tests of the mythical... you know who (consider this post image as a "sneaky peek").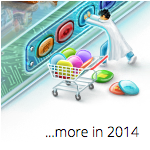 Happy New Year, dear friends! We love you!